---
Work Scope
・User interface&design development(PC・tablet・smartphone・application)
・WEB programming(front end coding,responsible design)
・CMS design guidelines development(VI guideline for unified design)
---
Background
NTT Townpage is a Japanese one of the biggest media services providing "Town Page": a telephone directory and Internet directory " i-townpage". The Town Page brand was well known in Japan as a de-facto standard of the domestic telephone directory. But "i-townpage" was born to provide not only phone numbers but also all information needed in usual daily life using the net media.
The i-townpage challenged to be in the first place to dispatch information provided as Internet contents. Especially the spread of the tablet PC and smartphones and changes in how people utilize these technologies to reach information was a big theme to achieve the goal. After WEB performance and UI design renewal plan was determined, RISKYBRAND was adopted as design partner.
Process
RISKYBRAND supported in designing development and website building, based on a new branding strategy for the i-townpage. We renewed whole pages by installing a new research box "Where and what are you looking for?" to guide users by a simple retrieval. Also we established a uniformed grid interface based on the fundamental policy of soliciting the new color and new brand image of the i-townpage. Responsible design was introduced in technical areas, and the high correspondence with new devices in one source was realized.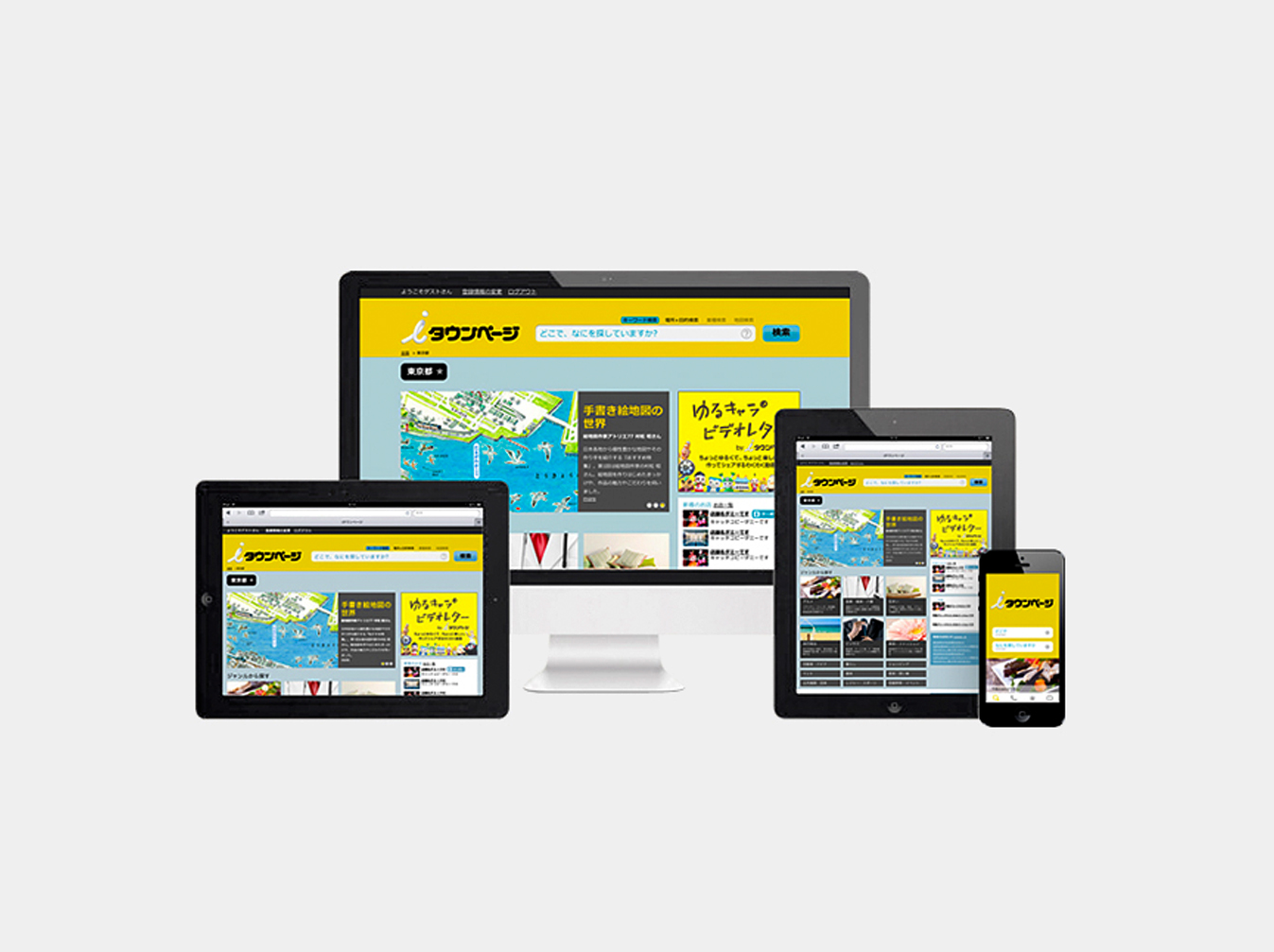 Moreover, as for the management and control of the interface, we established design guidelines in order to make it feasible to add and update contents continuously without disuniting the package by making regulation and rules in the indication design policy.
Result
i-Townpage was renewed In 2013 March 6th. RISKYBRAND will continuously support NTT's exploration.
| | |
| --- | --- |
| Client | NTT DIRECTORY SERVICES Co. |
| Backend System | NTT Resonant corporation |
| Web Programing | The Brewery, Inc. |