Missed Part I ? Find it here
Day 4
The day started with a talk on mission-driven branding by Charly Lester, Co-Founder and CMO of Lumen, the first dating app specifically designed for over 50s. Charly was named one of the Women of the Future in 2018, Women in Tech 100 in 2019, and she won a Stevie Award for Entrepreneurship for her work on Lumen.
She talked about the importance of mission as well as how she built Lumen's brand without big budgets and traditional marketing.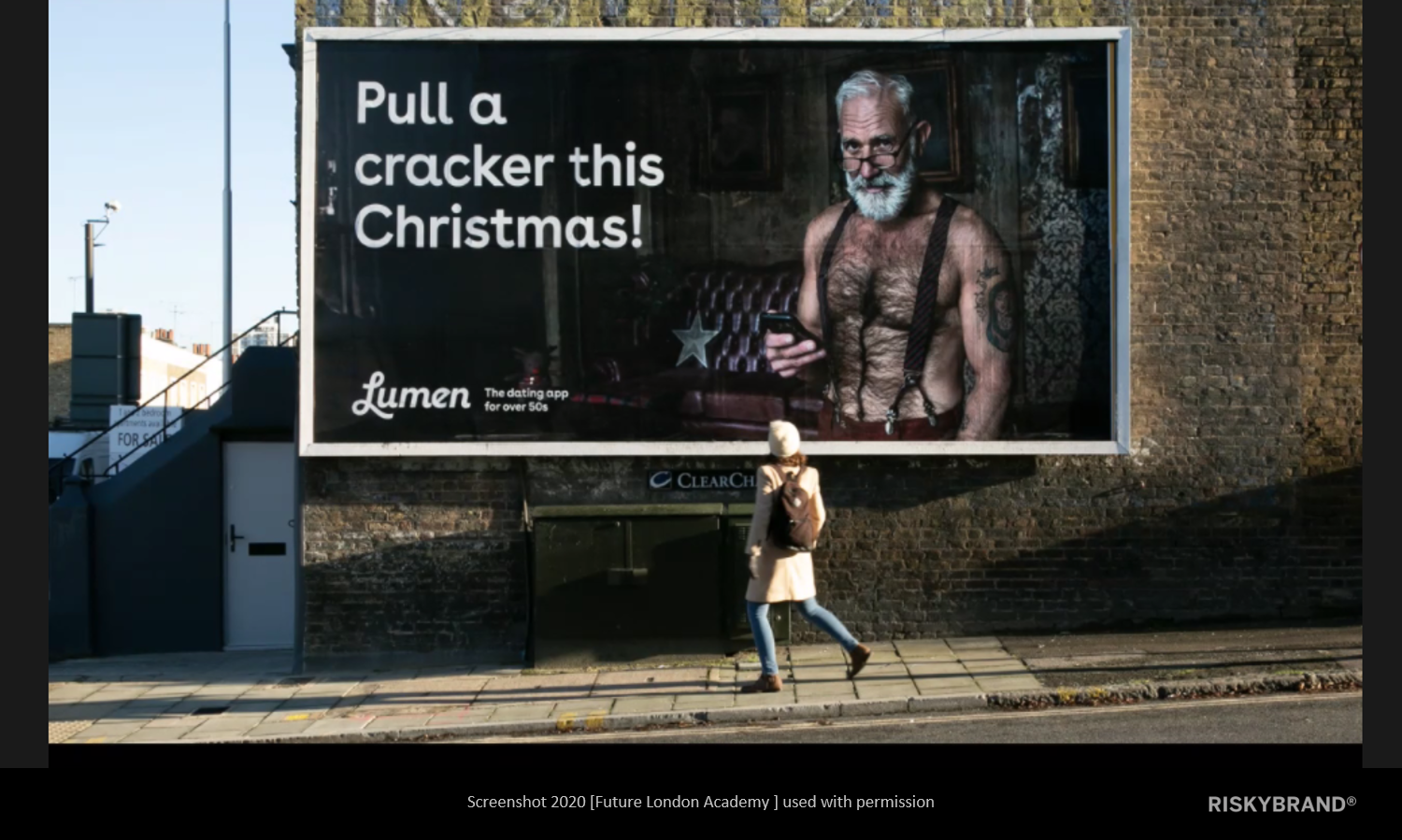 Lumen's first ad, 'Sexy Santa' was run on a single billboard in London, with a budget of a few hundred pounds. Due to the provocative nature of the creative, it quickly became a topical talking-point across the UK – generating huge PR and eventually leading to additional billboards.
Behind its humorous messaging, Lumens asks deep human condition questions: what is the place of 'over 50' people in our society?

A couple of useful tips from Charly:
– Consumers are now looking for more than just good products and services. They are attracted to companies that communicate a belief, i.e, have a mission at the core of their brand. Being mission-driven can be broken down into three simple things:
1) Show that you understand your customers.
2) Show that you care about them.
3) Talk about the things you care about outside of what you're selling (i.e. values that you and your audience have in common). Hence the importance of having a clear point of view transcending the realm of your offering.
– If you struggle to define your mission, ask your 'super-users' (your existing fans). Together you can collaborate to surface the unarticulated values and beliefs behind your brand.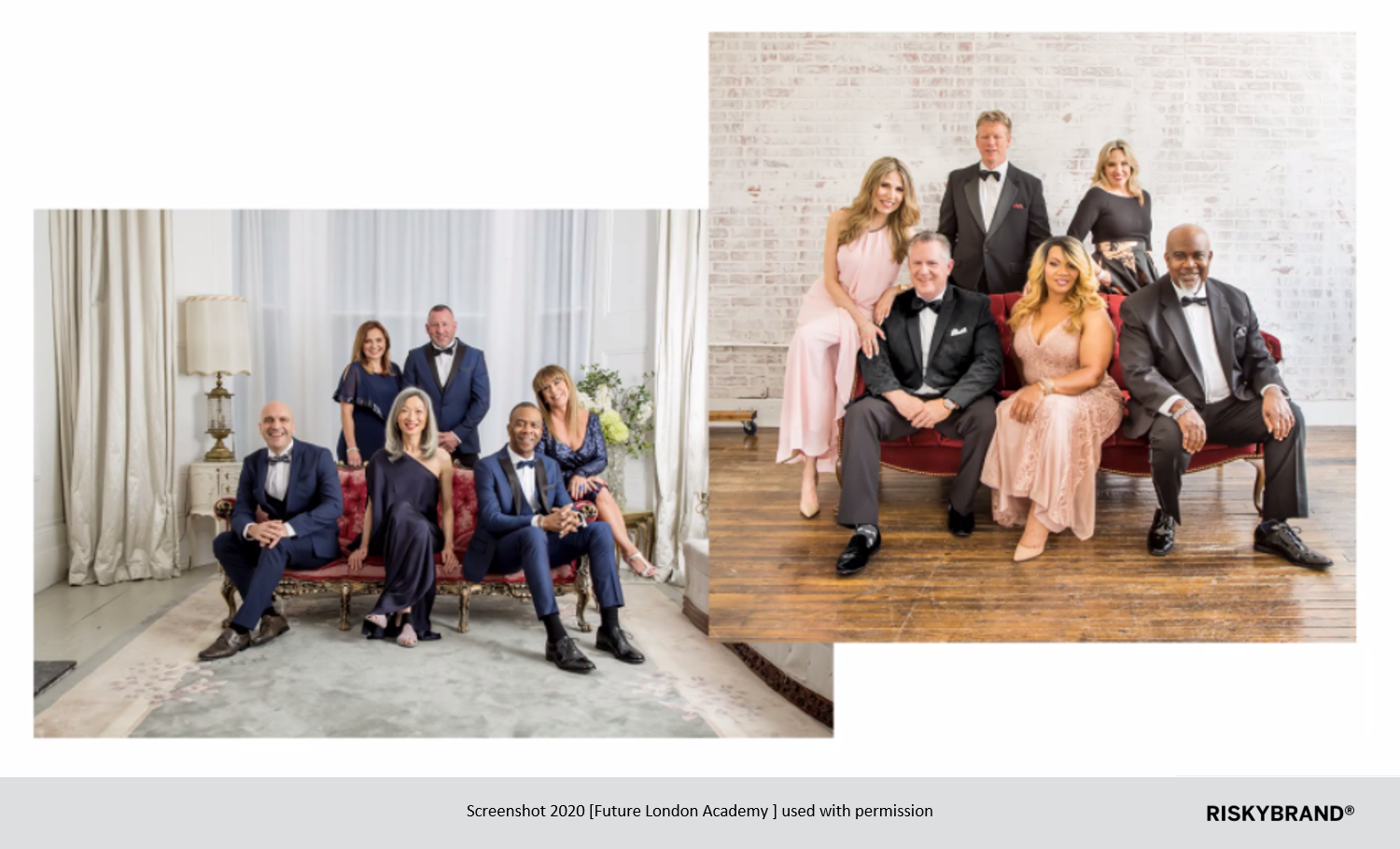 Photoshoot of Lumen's most popular users in the UK ( left) and the US ( right).
By showcasing its most popular users, 'the most eligible singletons over fifty in the country', Lumen aims to highlight the new normal of being over 50.
– Being mission-driven does not necessarily involve embracing large social causes such as sustainability or social justice. Lumen's mission is to give a voice to a generation that feels underrepresented and invisible, not only in the dating sphere but also in a wider cultural context.
– You don't have to spend millions for communicating your mission either. Here again trust your 'super-users' to spread the message.
– People have memory and can smell inauthenticity. Be careful to not just jump on a bag wagon (for example, don't just add a black lives matter stickers on your website, you need to walk the talk!). Especially for founders, make sure that your own behaviour matches the company's mission. Ideally, the founder should be a visible figure, embodying a part of the brand but not all of it (otherwise exiting can become tricky).
The day continued with a social media masterclass from Paddy Smith, Creative Director at Born Social.
Paddy discussed the essential challenge of doing branding on media that were not initially designed for brands—but for people. This is forcing brands to depart from the traditional broadcasting model to adopt a two-way communication style – requiring a whole different set of skills, as well as more human and friendly personality that might not be natural for many brands.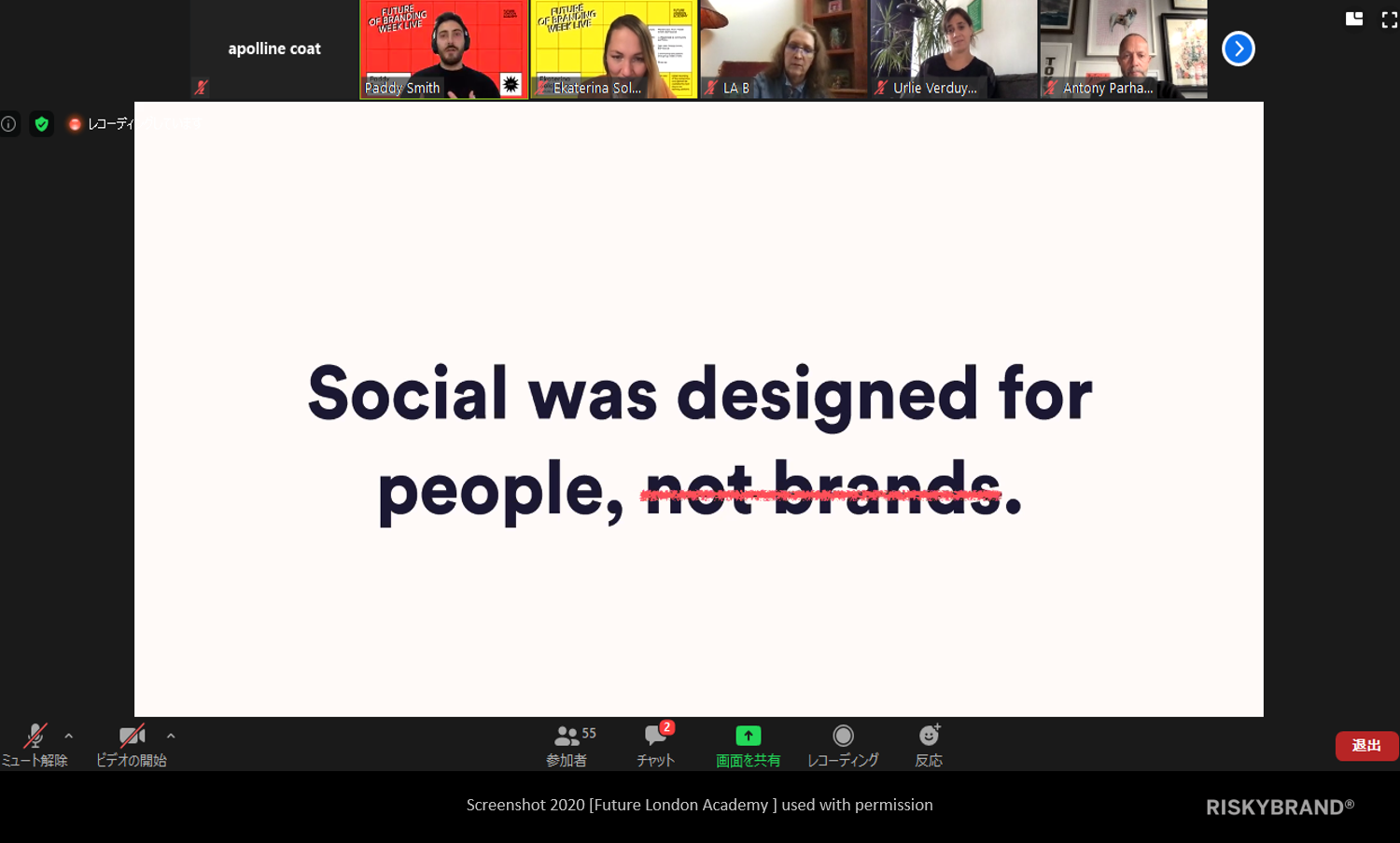 It was interesting to see that Paddy also evoked the importance of collaborating with 'super-users' to create social campaigns that are culturally relevant and feels authentic. Paddy also unveiled the frameworks that Born Social use to create successful social campaigns, on each social platform – from TikTok to Facebook.
Day 5
The Future of Branding Week finished with a thought-provoking masterclass about brand purpose taught by Matthew Jones, Creative Director at Accept & Proceed.
While the studio is renowned for producing thoughtful work with both the analytics and aesthetic in mind, it also has Purpose built right at its very core – from being B Corp certified to donating 1% of their profit to 1% For The Planet.
Matthew shared how their team create purpose internally, externally for their clients using their «Living business plan» to make a great work above and beyond just money.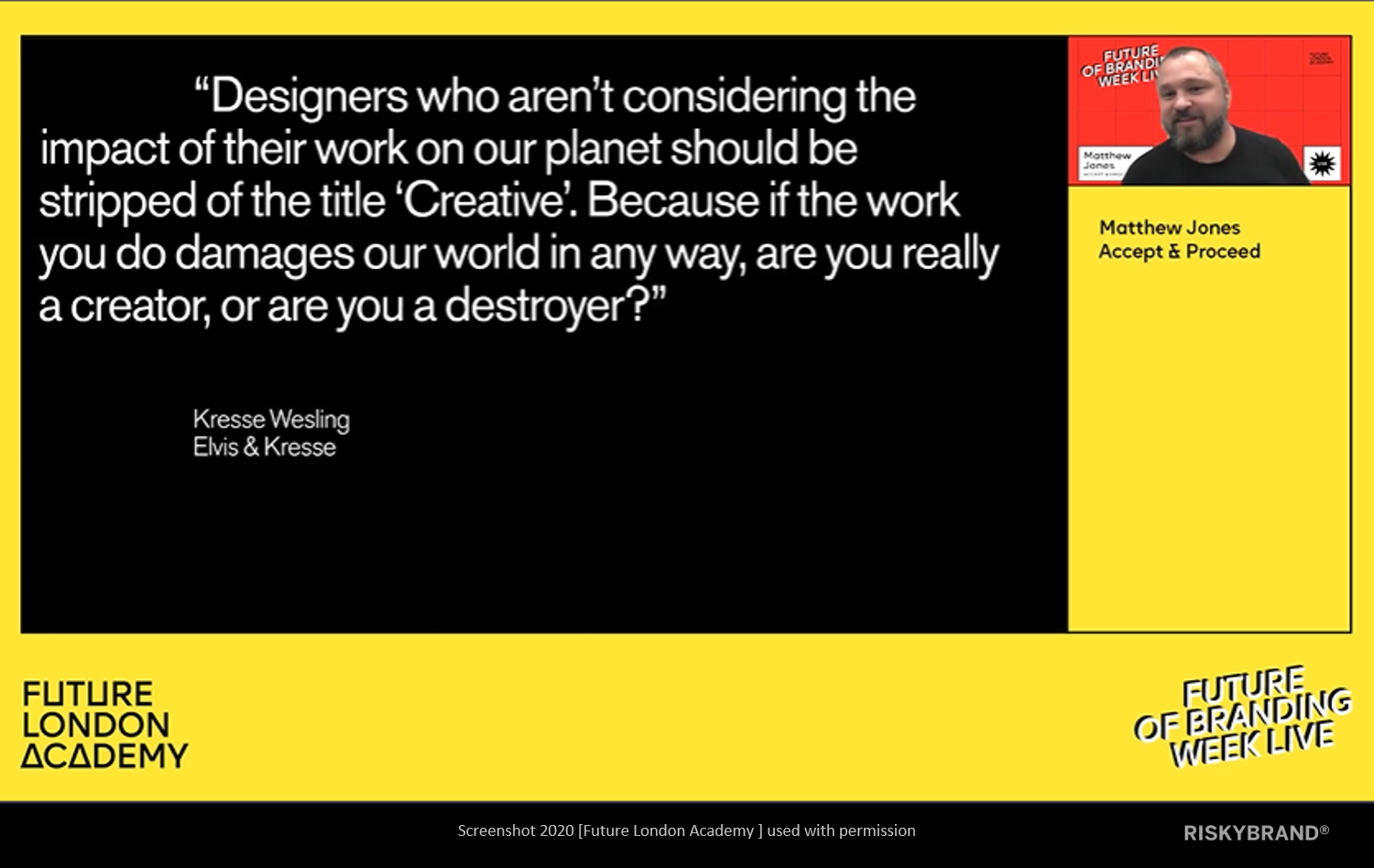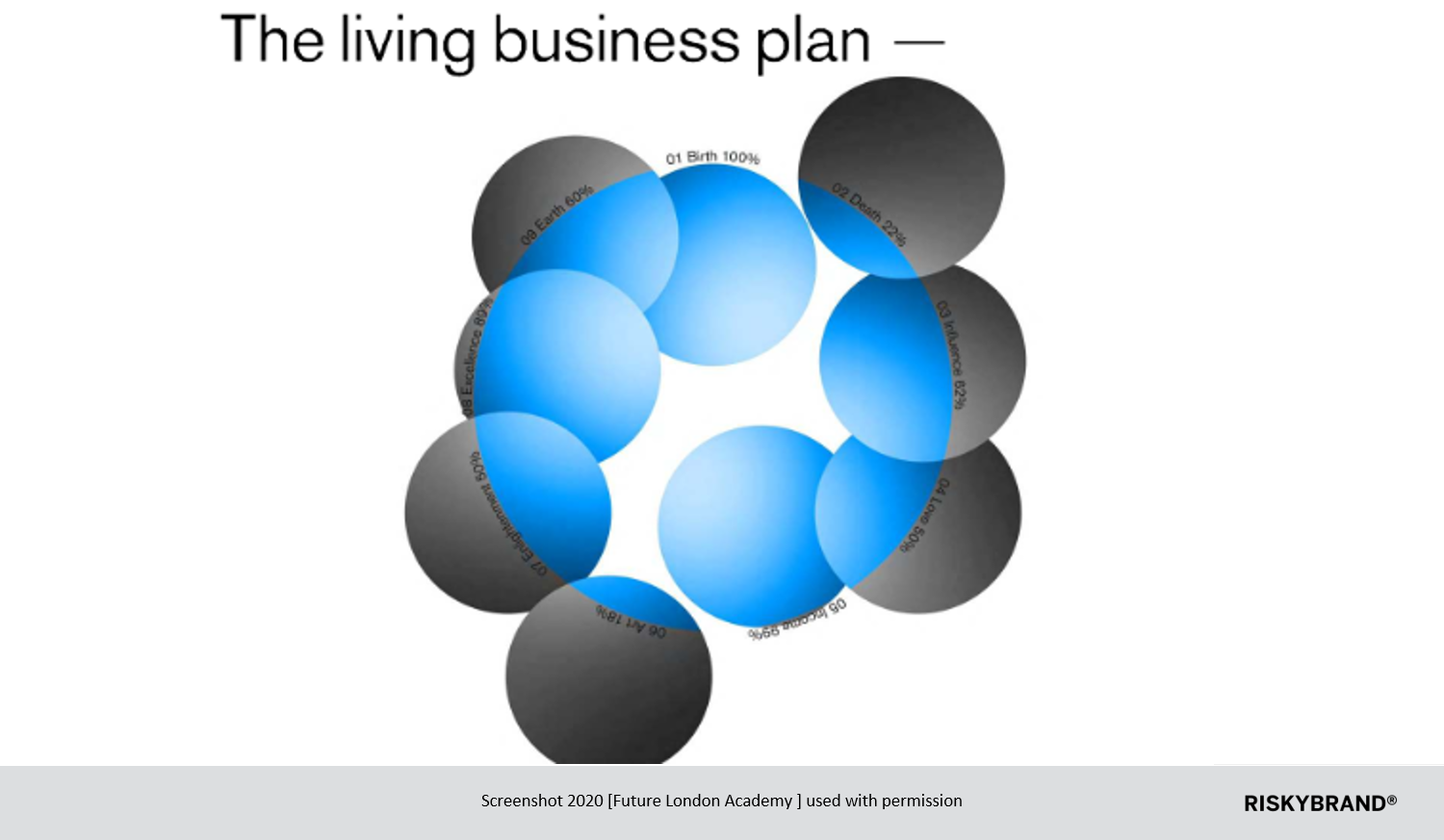 Community
We were nearly 60 participants spread across the world, with professions ranging from art director and copywriter to product designer and digital strategists.
As we could not meet in person nor debrief over a pint of beer after class as planned, taking this experience online must have been a tricky challenge for the organizers. Especially when we consider that one of the best parts of the program is about visiting the speaker at their companies' offices to see how they work from the inside, a value that a conference's presentations cannot provide.
How do you keep things interesting when meeting up in-person is off the table? Here are a few best practices that I found effective and will use in the future:
– Emphasis on culture building: online tools helped, but in my opinion, the biggest factor was the facilitation that truly set the tone for the week. Facilitator Ekaterina displayed a contagious enthusiasm and positive vibes that created a convivial and informal atmosphere from the beginning. Being in presence of branding rock stars could have been intimating but feeling 'as if' we were all gathered in the same casual setting allowed conversation to happen naturally.
– Dedicated tools for personal introduction: before the week started, we were invited to introduce ourselves on the 'Community Board'( using Miro, the online collaborative whiteboard platform usually used to run workshops and group works). Then we were asked to join the WhatsApp group and list what we wanted to achieve by the end of it. This made sure the ice was already broken by the time the classes started and created the feeling that we knew each other a little bit better.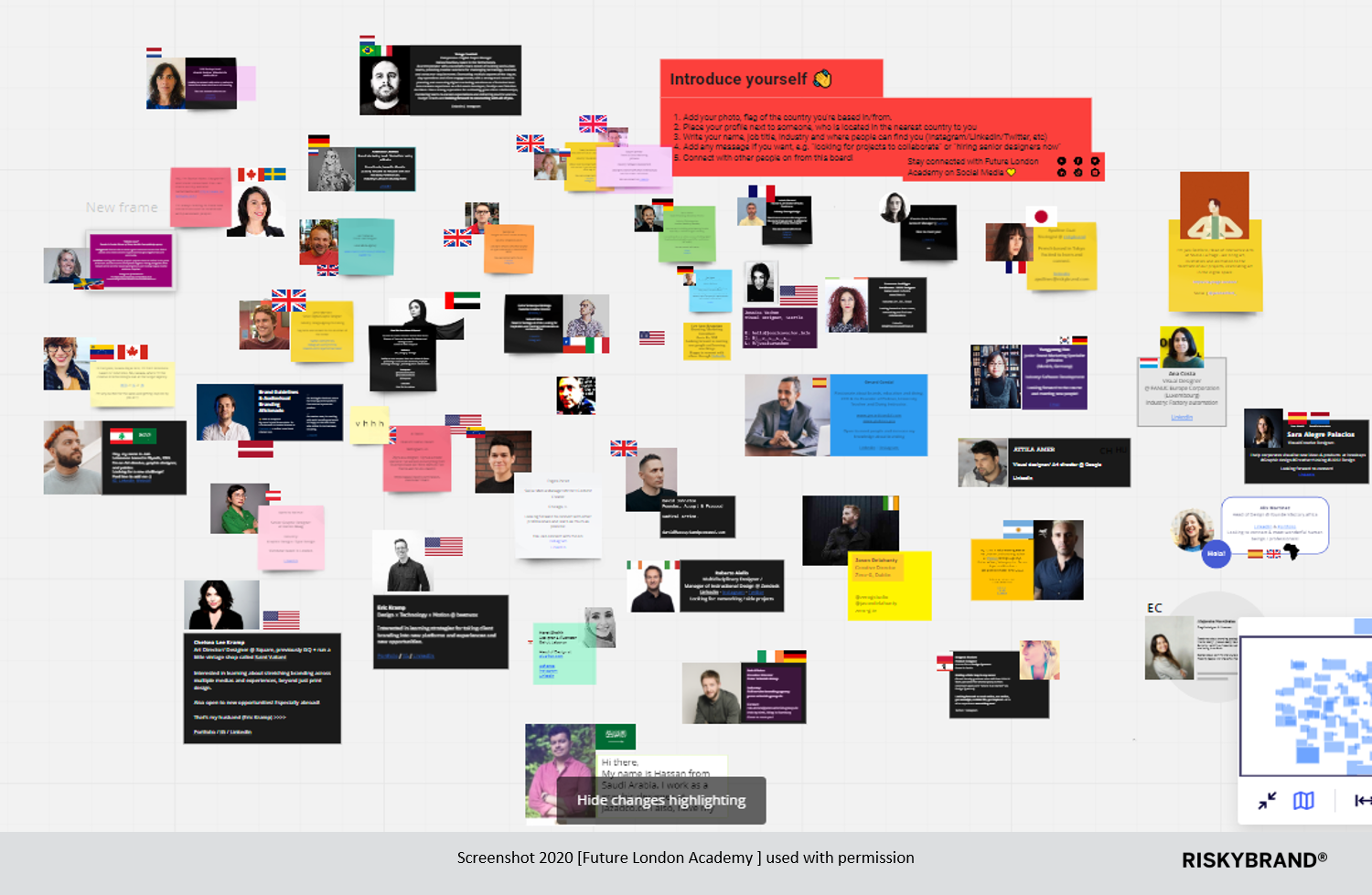 Looking at the 'Community Board' it seems that I was the only attendee from Japan. Find me if you can!
– Conversation-starters: after every masterclass, we were separated in small groups using Zoom breakouts, with a topic to discuss. This provided a starting point to engage and resulted in insightful discussions.
– Getting personal: the organizers were constantly encouraging us to voice our thoughts and tell personal anecdotes. Seeing everyone's 'human side' contributed to creating a sense of camaraderie, while giving us the sense that we're all in the same boat, across industries and borders.
To conclude
The Future of Branding Week Live did live up to its promise to Unite and Inspire!
In my opinion the best thing about this program us the opportunity to get behind-the-scenes access to the top design agencies of the world, including their processes and tools, point-of-view and culture, and not just generic advice. This was made possible despite the fact that we couldn't visit their office, thanks to creative use of online platforms and the cultivation of an 'always learning' mindset where participants could ask questions to the speakers in an informal way, but also learn from each other during the structured community chats.
The creative industry is evolving at light-speed and one is capable of knowing everything. It is essential to stay open to different approaches and create our own learning flow for keeping up to date. The Future London Academy does just that: erasing borders between creative communities to learn and achieve more.
For a deeper dive into the masterclasses, stay tuned! We will compile the best insights and tips from the courses in the coming weeks.